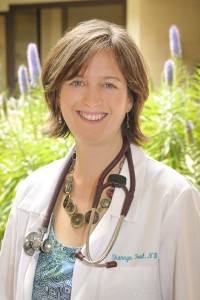 Hi, I'm Dr. Shannyn Fowl.
When people ask me where I'm from, I am never sure what to say.  Between my dad being in the Air Force and my educational pursuits, I've lived in 10 states.  Living in different parts of the country has allowed me to experience and to appreciate the diverse cultures, foods, lifestyles, past times and accents. I love to travel and as you will see throughout my office, National Parks are a favorite.  Since moving to San Diego, my love for hiking, local flora and sun will keep my family and me here for a long time to come.
My son, Julian, was born at home surrounded by fellow natural doctors. He is twelve years old now and I love being a mom. One of the best parts of life is creating and promoting curiosity for our children.  I have volunteered in class since kindergarten teaching science topics from hatching butterflies to chemistry.  Our favorite past times are playing with our chickens, visiting national parks, camping, cooking, reading books, making up silly stories and, of course, the sandy shoreline and beaches of Southern California.
My first encounter with natural medicine was a book about herbs and health that my mother bought for me at a garage sale. I was fascinated and began to explore optional ways to treat disease.  I even began using natural remedies, with great success, treating our livestock.  I went on to study midwifery and worked as a certified nurse aide for over a decade. My passion was to teach health to families and offer real health solutions.
A friend and owner of a health food store introduced me to the profession of Naturopathic Medicine.  I immediately knew it was my calling and so began my educational journey to become a Naturopathic Doctor.  I believe each person has a unique story to share. I look forward to hearing yours. Health is worth working for and I am committed to whatever it takes to find the answers that work for you.
I have seen individuals recover from very difficult and challenging conditions using Naturopathic tools and philosophy. My desire is to see this happen for you too. You can expect me to listen to your needs. I will educate you on your health care options, work with other practitioners or specialists as needed and together we will navigate the health care system to find answers. I am committed to finding healthy solutions that work for you.
Let me be your Naturopathic Doctor in San Diego, and I will take you on a Journey of Health. For more information, give me a call.